Samsung has launched Corby Mate (B3313) in India. It is a slider phone with QWERTY keypad. It comes at price tag of Rs. 7300.

Corby Mate is message-centric mobile for heavy texters delivering easy-to-use SMS and IM (Instant Messenger) features enabled through its finger friendly full QWERTY keypad, ergonomically placed on the face of the phone. Features like Buddy List, Chat Style SMS, Easy Email Set up wizard, Instant Chat Messenger and Popular SNS Sites eases messaging and emailing experience.

With Corby Mate you can update your current status and access friends' updates, live feeds Facebook, MySpace and Twitter through simple Pop-up SNS. The handset also supports various social networking community sites by integrating leading User Generated Content sites such as YouTube, Flickr, Picasa and Photobucket and other popular SNS sites including Facebook, MySpace and Friendster directly into the handsets user interface. You can upload photo & video to these SNS and User Generated Content sites through Communities solution.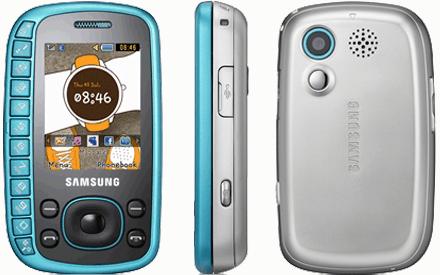 Key Features of Samsung Corby Mate

2MP Camera

Internal Memory – 40MB

External Memory expandable upto 8GB

Mobile Printing

Battery 800 mAh

Standby time – Upto 324 Hrs

Talktime – Upto 9 Hrs