Considering the auspicious occasion of Valentine's Day, many companies find that this is the right time to bring their new series' out. Samsung also has announced a new series called the REX.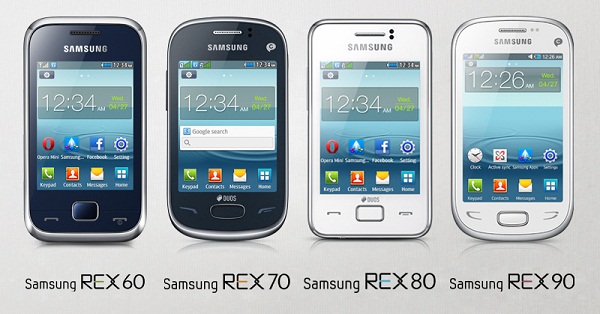 Samsung released their new REX series today with four new devices, REX 90, REX 80, REX 70 and REX 60. The newly released devices are ranged in the price band from Rs. 4280 to Rs. 6490.
The four devices which differ in screen size have a stylish curve with an intelligent design. The compact size gives a good grip on the device. The Touchwiz interface offers a smooth user experience with unlimited options for customization. The phones have the Smart Dual SIM facility which allows to operate both SIM's simultaneously thus offering more functionality.
The Samsung REX 90 is 3.5 inch phone with a 3.2 megapixel camera while the Samsung REX 70 is a 3 inch phone with a 2 megapixel camera. Both these phones come with the True Hot Swap for Dual SIM which allow the user to change SIM without having to even switch off the device.
The Samsung REX 80 feature a 3 inch display with a 3 megapixels camera whereas the Samsung REX 60 is just a 2.8 inch screen with a 1.3 megapixels camera. The higher end Samsung REX 90 and REX 80 are Wi-Fi enabled.
All these phones come loaded with the social networking apps like Facebook and twitter and also with the Samsung ChatON messenger to connect with friends on any mobile device. The RX phones are provided with a default Opera Mini browser and support Indian regional languages. The other apps can be downloaded from the Samsung App store.