After being officially announced at the Mobile World Congress earlier this year, it's time to see phones loaded with the new Samsung Tizen OS. A new phone which is allegedly running the new Tizen OS has been leaked.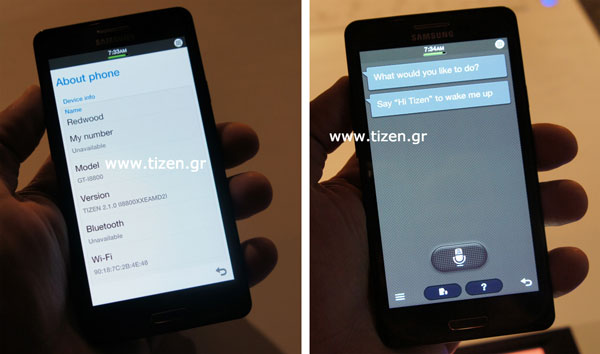 The Samsung GT-I8800 Redwood would be the first smartphone to be loaded with the latest Tizen 2.1 OS. While the device is still under cover, it was spotted by some prying eyes. While not much of the Tizen OS was seen, the popular S-Voice was very noticeable, but this time you need to say "Hi, Tizen" instead of "Hi, Galaxy" to bring it to life.
There already have been claims from company officials that the Redwood device would be the best product equipped with the best specifications. Though not much of the design could be seen, it wouldn't be unfair to call to it a Galaxy remake. So now we are eagerly awaiting the Samsung Redwood with the Tizen OS to see if it can really shake the ground for Android and iOS.