Lately Samsung has been investing a lot into its S-Pen which works wonders with the Galaxy Note 5.3 inch phablet and which is also going to arrive with the Galaxy Note 10.1.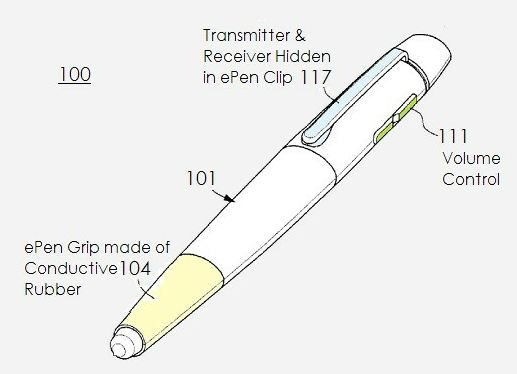 But now Samsung has filed a new patent which suggests that the next generation of the S-Pen which the Korean giant is working on could arrive with Near Field Connectivity (NFC) or even a Bluetooth capable signalling which could even allow users to make voice communication using the Stylus.

This may make the S-Pen a 'Pen Headset' and may work on its own wireless headset in the clip to make voice calls without having to buy a separate earpiece. Just like the stylus of the Asus Padfone.
 
And if you thought that is all, then hold on. Samsung has also added a ePen Grip rubbery material at the tip, which would be sending micro-current from the user's body to the capacitive display and fool it by making it realise that it is being touched by a finger, so that there are no lags in communication.
 
Indeed an impressive patent and we really hope that this advanced S-Pen arrives as early as on the Samsung Galaxy Note 10.1.