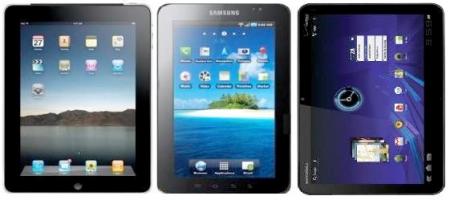 With every company worth its weight in chips, scrambling to win the battle of the tabs – the key to winning this David versus Goliath duo comes very simply down – to the customer. Firstly, how can a Samsung or Motorola bring in that cult-effect that Apple manages so effortlessly, secondly – what degree of customization can they deliver; and last and most important – is the element of surprise.
Samsung remains the unsung hero in the tablet space, with a great product in the Galaxy Tab, that does all of the above and more – yet, it pares in comparison to Apple's iPad. Samsung has not been sitting pretty unlike its Cupertino based rival, but with Android activations spreading across the globe like a growing swarm of locusts, are things at Apple not so rosy anymore.
With the Samsung Galaxy Tab now in presumably two new sizes and running the smart and intuitive Android 3.0 (Honeycomb) OS and Motorola's Xoom that was recently unveiled at CES 2011, the tablet market is certainly heating up, while Apple's pie seems to be getting smaller.
Android tablets grabbed a 22% share of the world's tablet market last quarter, denting for the first time the iPad's dominance, according to UK based research firm Strategy Analytics. Approximately 9.7 million tablets shipped in the fourth quarter of 2010, up 120% over the previous quarter.
Apple accounted for 75% of all fourth quarter sales – the company still has it, but down from an estimated 95% share in the third quarter, when its iPad accounted for 4.2 million of the 4.4 million tablets sold. Will the iPad 2 change its fortunes or will Samsung and Motorola, both Android based tablets bring the Apple down to earth.
We have seen this happen in the mobile space with Nokia. The question is do companies with great products that sell like hot cakes know how to stay humble enough, to listen to their customer and better still read their minds. Loyalty is for dogs, people want the best product even before it is conceived and it may soon matter little who can deliver that.