Tegra Zone game store app launched for Android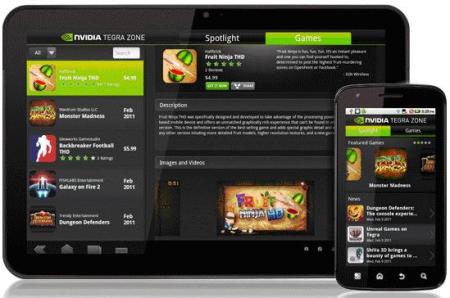 Nvidia Tegra zone application is now live on android market. Tegra Zone is a game store like application that delivers Tegra optimized games to end users. The app also features game reviews, screenshots, trailers, gameplay videos and behind-the-scenes shots. While this might open up a new kind of fragmentation, it  is one way to make sure that the game that you purchased for your Tegra device will run without any lag or problems. Samsung is coming up with it's own game hub and Sony Ericsson has announced it's own Playstation suite for android.
Do note that the applications available in tegra zone may not run on non-tegra hardware so do make sure that your phone has tegra powered CPU/GPU before purchasing  a game inside Tegra Zone.
Quotes:
"We're working with game developers and publishers to turbocharge mobile gaming for Android super phones and tablets. Our goal is to bring a console- class gaming experience to super phones and tablets and bring the generation of gaming to the future of mobile devices. Tegra Zone is a free app we've built so gamers can find great games for Tegra in one easy place."- Tony Tamasi, Senior Vice President, Content and Technology at NVIDIA
"Tegra Zone is great for the mobile ecosystem. It's enabling new, optimized software and providing opportunities for developers to create premium content for Android devices."- Ben Barjarin, Principal at Creative Strategies Inc.
"Tegra Zone brings the best Android games to the palm of your hand. Working with NVIDIA, we've brought Samurai II: Vengeance to Tegra devices, which make its stylized manga graphics, quick, realistic gameplay and screen-popping action come to life."- Marek Rabas, CEO at MADFINGER Games
"Gamers don't have to look any further than Tegra Zone for the best in mobile gaming. The only way to experience the complete Dungeon Defenders adventure is on Tegra-powered devices, which deliver full-blown high-def, Unreal Engine 3-powered graphics and a real-time cross platform online multiplayer experience."- Jeremy Stieglitz, Co-Founder of Trendy Entertainment
"Take one look at Tegra Zone, and you'll see how Android games are stepping it up visually. The Tegra-optimized version of Galaxy on Fire 2 is the ultimate sci-fi gaming benchmark. Plus, it matches the experience on a gaming PC or console."- Michael Schade, CEO of Fishlabs
"Backbreaker Football looks amazing on Tegra super phones and tablets, and it will rock on Tegra Zone. We've pushed the boundaries for visual fidelity, including full self-shadowing on characters — a first on a mobile device."- Torsten Reil, CEO at Natural Motion Games
"By utilizing the power and finesse of Tegra 2, Fruit Ninja has been developed and polished to an incredible standard of quality. It's allowing us to debut a brand-new version — Fruit Ninja THD, for Tegra Zone."- Shainiel Deo, CEO at Halfbrick Studios
We've been waiting years for a mobile chip to bring this type of graphics horsepower and potential to mobile gaming. Vendetta Online brings a fast-paced, 3D MMORPG experience to your favorite Tegra-powered device through Tegra Zone."- John Bergman, CEO at Guild Software
"Monster Madness absolutely comes alive on Tegra-powered devices. To get an idea of why Tegra 2 is the new force to be reckoned with in digital gaming, check out the faster frame rate, intuitive touchscreen interface and amazing 3D graphics powered by Unreal Engine 3."- Melanie Mroz, CEO and President at SouthPeak Games
"NVIDIA's put a huge effort into bringing games that look and play better on Tegra 2. All of the flagship versions of our Hardwood games look fantastic and provide a fabulous experience on Tegra 2 devices."- Rich Stewart, CEO at Silver Creek Entertainment