Save on Data usage with new Opera Mobile 11.5 and Mini 6.5 for Android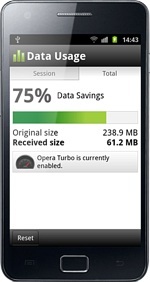 Opera has announced that Opera Mobile and Opera Mini have been updated to v11.5 and v6.5 respectively for Android devices and both are now available for download in Android Market.
Now Opera browsers will show you the amount of data that the browser has consumed and also how much it has saved which can also be related to amount of money it has helped in saving for you. Opera's cloud-based Turbo technology reduces the size of a page by up to 90% and this in turn also saves a lot of your data. This data page can be easily accessed from the Help menu.
The new browsers are now more integrated into the Android OS and now you can easily transfer you bookmarks with the new handy bookmarks feature. Also now shortcuts for home-screen will allow users to access their most visited websites quickly thus saving their precious time too.
Other than these, new features include Inline video support on Honeycomb for Opera Mobile, improved network performance, lesser memory usage by JavaScript engine, fresh update to Opera Presto engine and HTML5 micro data. You can visit here to download the latest version of opera browsers.