Windows Phone 7.5 enters India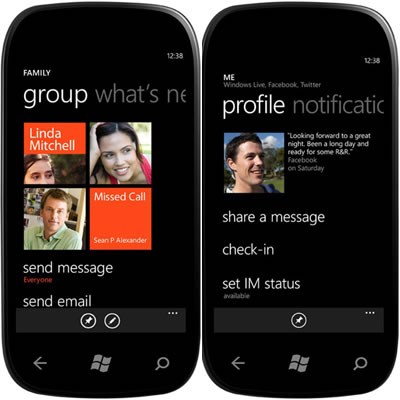 Microsoft India finally launched the Windows Phone 7.5 in India. The OS has a new rich and dynamic user interface of Live Tiles and Hubs, and enables people to quickly find, connect and consume the things that they care about the most. The new OS has a new user interface called 'Metro' which somehow looks and feels different from all the current mobile platforms in the market.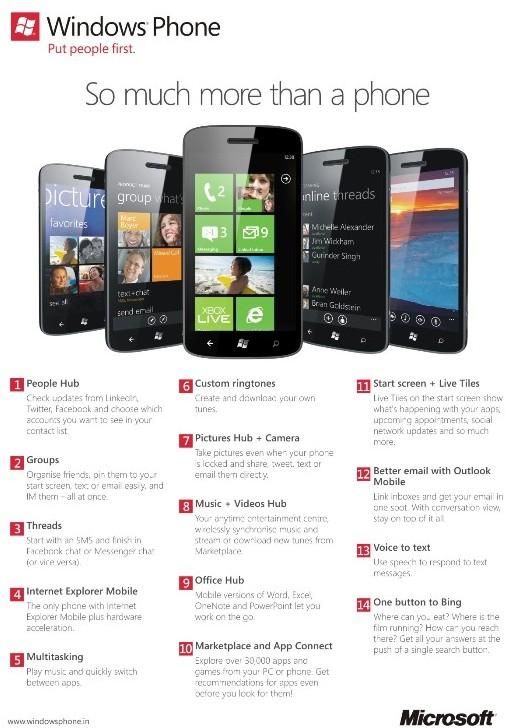 Icons have been replaced by Live Tiles on the Windows Phone start screen which come to life with real-time updates from the Web such as news, appointments or the status of friends. New Live Tiles can be easily created from whatever content a consumer wants, for applications, websites and music.
The new UI also has various hubs which bring together related content into a single view to simplify common tasks. These include:
People: This hub delivers an engaging social experience by bringing together relevant content based on the person. It also provides a central place from which to post updates to Facebook, LinkedIn, Twitter and Windows Live in one step.
Pictures: This hub makes it easy to share pictures and video to a social network in one step. Windows Phone also brings together a user's photos by integrating with the Web and PC, making the phone the ideal place to view a person's entire picture and video collection
Games: This hub delivers the Xbox LIVE experience on a phone, including Xbox LIVE games, Spotlight feed and the ability to see a gamer's avatar, Achievements and gamer profile
Music + Video: This hub creates an incredible media experience. The overall experience is rich and easy to navigate, and immerses the listener in the content.
Marketplace: With over 30,000 apps and games, this hub allows the user to easily discover and load the phone with certified applications and games.
Office: Windows Phone Office hub has mobile versions of Word, Excel, OneNote and PowerPoint for working on the go. These can synchronised back to SkyDrive, Office 365 or SharePoint sites
The key features of the Windows Phone 7.5 include:
Threads: Switch between text, Facebook chat, and Windows Live Messenger. Group contacts into personalized Live Tiles
Social network integration: Facebook, Twitter and LinkedIn feeds integrated. Windows Phone includes built-in Facebook check-ins and face detection software
Linked Inbox: Consumers can see multiple email accounts in one linked inbox.
Hands-free messaging: Built-in voice-to-text and text-to-voice support enables hands-free texting or chatting.
App Connect: By connecting apps to search results and deepening their integration with Windows Phone Hubs, apps to be surfaced when and where they make sense.
Multitasking: Quickly switch between apps in use and allow apps to run in the background while helping to preserve battery life and performance.
My Windows Phone: All Windows Phones come with the ability to use any web browser to log in to and locate your lost phone on a map, have it sound the ringer, lock it, or wipe it.
Bing: Use Bing to get answers or to find an address or get directions. You can also search with your voice or take a photo to get results with Vision search
Calendar: Meeting invitations arrive in your Outlook inbox with schedule conflicts highlighted. You can view multiple calendars from your Exchange Server, Facebook, Windows Live and web email in one view
New Windows Phone devices will be headed to India including the HTC Radar in the coming week, followed by Samsung Omnia W and Acer Allegro in November.