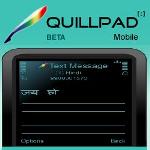 Do you send SMSs to your friends or relatives in any launguage other than English? Well, most of us do not, the simple reason being its difficult to type in Hindi or anyother regional language as most of us find it difficult to type in our mobile phones. To make this easier
Tachyon Technologies
worked with handset manufacturers and launched Quillpad.
What is Quillpad?

Quillpad Mobile is the extension of the well known Indian language transliteration product – Quillpad, into the mobile platform. Quillpad Mobile allows intuitive typing in Indian languages using the standard mobile keypad (English). By intuitive we mean, the user need not remember typing rules and can type the way he thinks or talks. For instance, to type a sentence like "दीपावली की शुभकामनाएँ", the user can type any phonetically correct variant – "deepavali ki shubhkamnayen", "dipavali ki shubhkamnaen", "deepavalee  kee shubhkaamnayen" etc. There are no rigid rules like 'A' represents 'आ', 'a' represents 'अ', 'T' represents 'ट', 't' represents 'त' etc.
Quillpad Mobile will be made available in all major Indian languages – Hindi, Kannada, Tamil, Telugu, Malayalam, Gujarati, Marathi, Bengali and Punjabi. We are starting by rolling out the product in Hindi, because Hindi users form our largest user base. In addition, recipients of the messages sent using Quillpad Mobile will need support for Indian language fonts on their phones in order to read the messages. While most handsets come with Hindi fonts, it's unfortunate that support for other Indian language fonts is yet to come on a large scale. However, user need not have support for Indian language fonts on his phone. Quillpad Mobile uses its patent pending rendering technology to support Indian language fonts on handsets that do not come with Indian language fonts bundled.
Quillpad Mobile covers a wide variety of phones. It works on any phone that comes with Java.
Advantages and Positioning
There have been attempts at making Indian language SMS possible. However, these attempts have suffered from a lack of elegance and simplicity of use. Some of these systems are rule based, which impose typing rules that users must learn. Other approaches rely on an Indian language keypad (limited to one language). However, as mentioned before, Quillpad Mobile is the first such product any layman can use intuitively without having to learn anything new. The user doesn't need to remember typing rules unlike in rule based transliteration tools. Quillpad Mobile can use the existing English keypad to support multiple languages. English alphabet is all the user needs to know in order to use Quillpad Mobile. Most users have this level of knowledge and that's how they key in names to the phonebook on their handsets.
How to get and use Quillpad Mobile?
Consumers can download Quillpad mobile to their phones (via GPRS) or to their computers by logging on to http://www.quillpadmobile.in. They can install the product and try it out for free by sending a limited number of messages. After that, in order to continue to use the product, they will need to buy the product license by logging on to http://www.quillpadmobile.in and making a payment of Rs. 149 only using either credit card or debit card or net banking.
For the demo of the product log on to http://quillpadmobile.in/get.php
OR SMS – type Quillpad and send it 57333
The comprehensive list of phones that support the installation of Quillpad Mobile can be found on on quillpadmobile.in