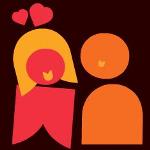 Tata DOCOMO has launched the '2gether' platform. The '2gether' platform is created with the objective of connecting people with their loved ones this Valentine's Day without exposing them to the fear of rejection. The idea originated from the thought that we all admire someone at some point in our lives, but many of us do not have the courage to let the other person know.
The '2gether in Love' program will help people to connect on this Valentine's Day. In this program participants will be given the option to anonymously express their feelings through either email or SMS.What makes this program distinctive is the fact that it doesn't reveal the identity of the sender and the receiver keeps guessing who the possible admirer could be? If the guess is right, Tata DOCOMO brings them together. If the guess is wrong, the guess chain goes on and there is no fear of suffering heartbreak for anyone! So this Valentine's Day, reach out to the one you secretly like or who likes you.
Follow the simple steps given below and TATA DOCOMO will help you connect with the one you admire secretly and know how they feel.
Step 1 : Create a account with TATA DOCOMO. To create account click here.
Step 2 : Fill in email address and/or Mobile number of the one you admire
If you have any doubts. Please read the FAQs. Click here