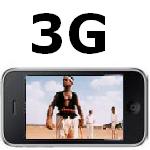 3G is making lots of buzz these days. Recently I published an article related to BSNL's 3G coverage. I got a mail on the the day on which I published above article, asking me what exactly 3G is? So, here is the answer.

According to wikipedia – 3G is a family of standards for mobile telecommunications defined by the International Telecommunication Union,  which includes GSM EDGE, UMTS, and CDMA2000  as well as DECT and WiMAX. Services include wide-area wireless voice telephone, video calls, and wireless data, all in a mobile environment. 3G allows simultaneous use of speech and data services and higher data rates (up to 14.0 Mbit/s on the downlink and 5.8 Mbit/s on the uplink with HSPA+). Thus, 3G networks enable network operators to offer users a wider range of more advanced services while achieving greater network capacity through improved spectral efficiency.

Benefits of 3G :

High Quality Voice Service
The quality of voice falls under 3G will be much higher compared to 2G services.  

Enhanced content services
3G users can download full music files, full movie files and other files at high speed.

Mobile Broadband
3G User can use his handset for high speed Internet any time anywhere (where connectivity is available :P)

Video Services
3G user can enjoy the video call facility wherein both the caller and receiver will be able to see each other while speaking if both have 3G services and 3G enabled handsets.  3G enables its users to send Video mails and , Video clips.

Mobile TV
3G users can watch TV programmes of different video channels as per his liking while on the move.