It seems that smartphones and tablets have attained a growing. The smartphone industry, it seems is crazy for big devices whether it be 6-inch smartphones or 12-inch tabs. Well, Sharp has gone one step further with its tablet endeavor and unveiled a 15.6-inch Windows 8.1 tablet called the RW-16GB.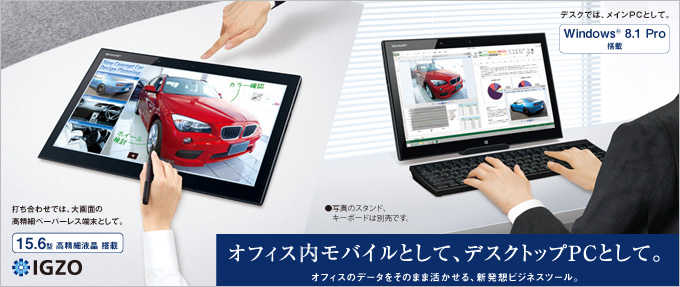 The thing with smartphones and tablets is that the bigger they get, the more they etch towards becoming a wholly different device – the Sharp RW-16GB Windows 8.1 tablet is kind of in the same boat. One look and you will feel that its desktop without the keyboard. Such devices then, do not hold much utility for the common man, but only those with specialized skills such as artists and designers can actually make use of them.
Still, the smart devices industry is abuzz about large devices – while  Samsung has unveiled the Samsung Galaxy Tab Pro 12.2 at the CES, Apple seems to be working on its own 12-inch iPad. But Sharp has put a leg ahead of them with this 15.6-inch tab. It has all the specs reminiscent of a PC – a 3200 x 1800p IGZO display with 235 ppi density, an Intel i5 4th generation processor, 4 GB RAM, 128 GB SSD, 2-megapixel camera and NFC. It weighs around 1.25 Kgs and will come with stylus support.
The price and availability of the RW-16GB Windows 8.1 tablet is not out yet.
Sharp RW-16GB specs
15.6-inch 3200 x 1800p IGZO display; 235 ppi density
Intel i5 4th generation processor
4 GB RAM

128 GB SSD

2-megapixel camera

NFC

1.25 Kgs weight; Stylus support