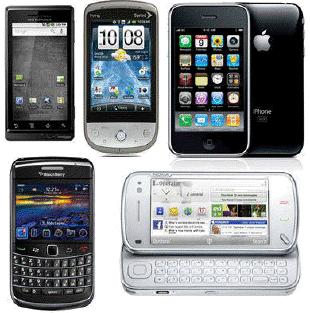 With the increase in number of cell phone brands and cell phone models itself, the Smartphone has reached gigantic sales figures. Today a Smartphone is looked upon as a device that can access the internet on the move, connect you to various social networking sites (facebook, twitter, myspace), check mails, play games, watch videos, provides access to various application, oh and off course allows the user to make calls and send messages. The Smartphone sales figures in 2010 were 84 million in Asia-Pacific. The projected sales for 2011 are most likely to hit 137 million according to a statement by the technology industry research company called IDC.
According to a source, IDC analyst Melissa Chau had the following comments: "Smartphones were a hot item in 2010, with more than double the shipments of 2009. In 2011, IDC expects this fire to keep burning as mobile phone vendors race to get consumers on higher-margin devices, operators look to pull up revenues on mobile data, and mobile platform stakeholders battle to woo application developers." She also added that the growth came from the region's more developed markets such as South Korea.
Every one out of five cell phones sold in 2010 was a Smartphone; this will change to three out of five in the year 2015. In the face of the Smartphones onslaught, feature phones; or devices that perform the basic functions, still held their ground. Sales of feature phones grew 17 per cent in 2010, driven by low-end brands priced below $100 from China, India and other countries, IDC said.