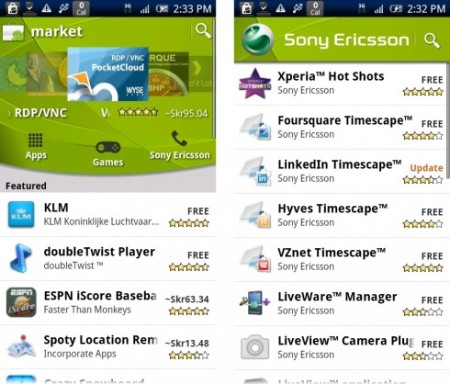 With new android devices launched by Sony Ericsson, they now have their very own channel on the Android Market. The channel will provide exclusive content for Android users using Sony Ericsson handsets and will also recommend third-party apps. This update will replace the 'My Apps' link in the Android Market to Sony Ericsson's channel link and 'My Apps' will be available when user press the menu key.
They say that their channel will be used to:
– Provide recommendation to help users find the best games & apps that enhance their Sony Ericsson 'most entertaining' experience.
– Provide a way to easily find original apps from Sony Ericsson such as Timescape plugins etc.
– From time to time offer exclusive games & apps only available in this channel.
– Help their developer partners promote their apps & games giving them a highlighted market space to their consumers.         
With this move, Sony Ericsson becomes the first manufacturer to have their own personalise channel in the Android Market. Surely other Android mobile handset manufacturers will follow and launch their own channels.
Source