It seems like Sony Ericsson is trying hard to get a little hold in the US as details of the upcoming device which may head on to AT&T's network.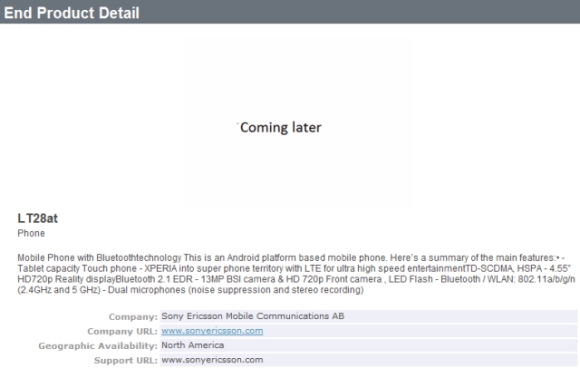 A Bluetooth End Product list has revealed that a the upcoming device named LT28at will have a 4.55 inch touch screen with a Reality display with a resolution of 720 x 1280.

Details also go on to reveal that it will be LTE enabled and come with a 13MP camera with LED flash and a 720p front facing camera. Also it will be powered by a 1.5GHz dual-core chipset. Initially it was being said that LT28at could be the previously leaked Nozomi but giving the different camera resolution and larger screen sixe this could be a different device in all.
Also seeing the leak, we can expect the device to see broad daylight officially during the CES which is scheduled in January.