Sony has today announced the launch of two on-the-go portable USB chargers which will be able to charge a good range of devices such as smartphones, tablets and others.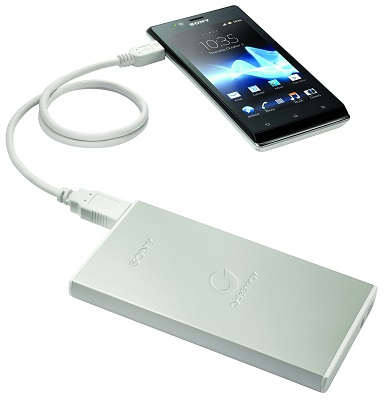 The two chargers are CP-F1L and CP-F2L which pack in battery capacity of 3500 mAh and 7000 mAh respectively.

First up is the CP-F1L which packs in 3500 mAh battery capacity, is just 9.4mm thick and weighs about 125 grams and arrives with an high output of 1.5A. This portable charger will allow users to charge their smartphone for about 1.5 times.
 
Next is the CP-F2L which weighs 198 grams and arrives with a battery capacity of 7000 mAh which is capable to allowing users to charge their smartphones up to 3 times. The CP-F2L also arrives with dual-USB output power ports which will allow users to charge more than one device.
Both the CP-F1L and CP-F2L arrive with feature which allows users to charge them using an AC adaptor or through USB port on a computer or notebook. An AC adaptor which is supplied with the chargers allow simultaneous charging of both the charge and the device connected to it at the same time.
 
The two chargers ship with Li-ion polymer rechargeable batteries which are capable of retaining 80 percent of their charged capacity even after 1 year of use and they can be recharged 500 times.
Sony has priced the CP-F1L and CP-F2L at Rs.3000 and Rs.5500 respectively and both the chargers are available at all Sony Center and other retialers.