There's one thing that you can count on Sony's smartphones for. And that's good cameras. After providing us with high-grade camera phones such as the Arc, now, Sony is trying to better themselves by fitting in bigger cameras but while mantaning the form factor.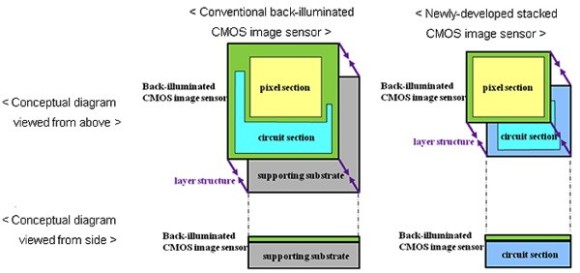 The company has gone pack to the manufacturing table and designed a back-illuminated CMOS. How this works is, Sony puts a pixel-sensor on a supporting circuit, which is then mounted on a supporting substrate. Both are to be produced separately and layered without any additional material, adding to the camera capability without adding to the form.

Furthermore, it comes with an HDR movie, which makes it easier to take tricky shots. Cellphone producers will get an 8-megapixl version in March, while a 13-mgapixel version is set to ship in June.
While bigger and better cameras are something we have yearned for ages, we just hope it doesn't add to sky-high cellphone costs and still causes us to betray our favorite DSLR.