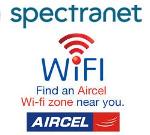 Spectranet has announced their partnership with Aircel to offer high speed Internet access to Aircel customers on Wi-Fi. Spectranet Wi-Fi service can be accessed by Aircel subscribers on all kinds of Wi-Fi enabled devices including mobile phones, laptops and tablets. Aircel subscribers can access the Wi-Fi services by latching onto the "aircel_spectranet" SSID and following a simple two-step registration process.
Spectranet, as preferred partner of Aircel, will deploy and manage core & access service infrastructure for Wi-Fi services enabling seamless authentication solution for both post-paid and pre-paid subscribers. This service will enable seamless Internet access for Aircel subscribers across Aircel GSM/3G network and Spectranet Wi-Fi network.
Spectranet's mobile data offload platform enables seamless traffic handover between GSM & WiFi networks. The system allows mobile smartphone users to be automatically logged in & out of Wi-Fi hotspots without having to enter username and password each time. The technology platform has been supplied by leading Indian OSS/BSS vendor Inventum Technologies which is also behind several other leading network deployments. It is notable that this is the first ever deployment of 2G & 3G mobile data offload to WiFi within India.
Spectranet has deployed Wi-Fi network at over 1000 hot-spots across six metros Delhi, Mumbai, Bangalore, Kolkata, Chennai and Hyderabad.
Speaking about the partnership, Mr. Udit Mehrotra, Managing Director, Spectranet, said, "Spectranet will continue innovating and creating differentiated offerings to enhance consumers' experience. We are building India's largest Wi-Fi network across commercial and residential areas and see tremendous growth opportunity in this segment. We are glad to partner with Aircel and be the first to introduce this unique offering in India. Being the first to offer this high speed internet experience to its customers, Spectranet has yet again demonstrated its commitment to bringing innovative and value enhancing services to its valued customers.