Spice announces 'Milaye Sapnon Se' online contest to create the World's Biggest Dream Tree
Spice Mobile, the Indian handset maker has announced a new campaign dubbed 'Spice Milaye Sapnon Se'. It is an online contest, where people can share their dreams to create the World's biggest dream tree online.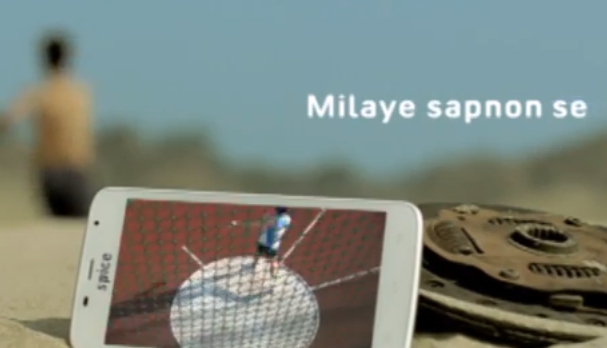 The Spice Milaye Sapnon Se campaign starts from today and will run till 2nd April. Spice has created a special microsite for the campaign, where you can go ahead and submit your entries for the contest. So, how do you enter the contest? Well, it's quite simple. You just need to share your dreams on the aforementioned Spice microsite.
The World's biggest dream tree will be created online through all the dreams, which contestants share. There are prizes to be won too, if your dreams are the most voted or liked ones. There are daily prizes along with one big dream prize. The dream, which gets the most likes or votes in a day will be awarded with the daily prize, which is the Spice Stellar Mettle Icon Mi-506 smartphone. A daily prize would be given out daily for the 10 days of the contest. Then there's the dream prize of 5 unique Spice Smartphones + 5 stylish headsets, which will be given to the most voted and liked dream in the entire contest.
Commenting on the announcement, Mr. Dilip Modi, Chairman, S Mobility Ltd, said "Spice truly believes in empowering people to realize and fulfill their dreams with smart phones.  This digital contest 'Spice Milaye Sapnon Se' is our initiative to collaborate with consumers on a common platform where they share their dreams and aspirations with us and the world at large. The contest is the first in a series of initiatives, both online and offline, that Spice is taking to connect with consumer's dreams and enable them to realize those dreams with Spice Smart Phones."
The 'Spice Milaye Sapnon Se' contest is the creation of IBS and the brainchild of brand and marketing consultancy Bharat Bambawale & Associates (BB&A). Spice aims to connect with the youth of the country with this campaign and also let people connect to their dreams. Anyways, what are you waiting for, hit the microsite link and just reveal the dream you have. You never know, you might win the prize.