Spice Mobile launches 3D phone, View D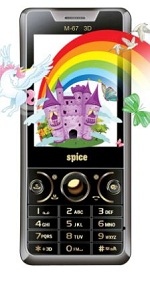 Spice Mobile has launched a 3D display mobile phone –'View D'. View D will allow the mobile phone users to view images, videos and even the interface in 3D. The auto-stereoscopic display will provide the user a 3D experience without the 3D glasses. This phone also comes with stereo surround sound and dual speakers. With the popularity of 3D televisions, movies and other video content, this phone is good for those who want to experience 3D experience on a mobile phone.
The View D's screen is designed in such a way that the user can toggle between a normal 2D or 3D user interface as per their choice. The mobile phone also features 'remote wipe' that deletes the phone data remotely. This is done by sending a unique SMS to the phone. This works even after the phone is lost and this way the user can prevent sharing its private and confidential data.
The View D is priced at Rs 4299. The phone includes 2MP Camera, FM Radio, MP3 player, Expandable memory upto 16GB, 2.4" 3D display screen and GPRS and WAP technology. The Spice M-67 3D mobile phone is available across India through more than 50,000 retail points including the 750+ Spice HotSpot retail network.
What will be more interesting to see is the battery life of this phone. Nobody wants to compromise on battery life these days. This phone also lacks EDGE feature. It only supports GPRS and WAP technology so the internet speed wont be upto the mark.