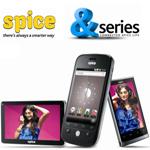 Spice Mobility has unveiled new Android phones under "Connected Spice Life" series. These phones are powered by powered by chipsets from Qualcomm. These phones are Mi-300 and Mi-410. Spice Mobility also unveiled Android based tablet Mi-700. While Mi-300 is launched, Mi-410 and Mi-700 will debut around October- November this year.
The Spice Mi-300 is a 3.5G Android v2.1 ready device, with integrated Spice mobility offerings including a bouquet of customised applications developed by Spice Digital. The phone features a 3.2" HVGA Capacitive touch screen with a resolution of 320 x 240 pixels. It has GMS & MS Office, GPS & A-GPS for location tracking or turn-by-turn directions, Wi-Fi, Push E-mail, G-sensor, E-compass and Proximity. It comes with a 5MP Camera and is powered by the MSM7227 chipset from Qualcomm. MRP of Spice Mi-300 is Rs. 9,990.
Mi-410 Ver. 2.1 has a 4.1" HVGA capacitive display. This Wi-Fi enabled device also has 3G (HSDPA), Bluetooth 3.0 + EDR transferring data at 24Mbps, AGPS, GMS & MS office. It is powered by the Snapdragon MSM8255 chipset from Qualcomm.
The Mi-700 Ver. 2.2 has a 7" HVGA touch screen. This handheld tablet has Wi-fi, Bluetooth and 2G/ 3G. Add to that a hot swap memory card slot, USB data interfaces and Dual camera for video calling. The Mi-700 is based on the MSM7227 chipset from Qualcomm.