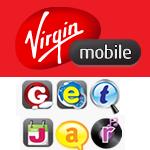 Virgin Mobile has announced its alliance with GetJar, the cross platform mobile applications store. . With this alliance Virgin Mobile customers will have access to a wide gamut of applications ranging from games, education, social networking, entertainment, finance, food, health, search, lifestyle and several other utility applications. Popular applications such as Facebook Mobile, Yahoo!, Nimbuzz, Opera Mini Browser, eBuddy and thousands of such applications can now be downloaded across all major platforms.
Virgin Mobile subscribers can visit the link: http://m.virginin.getjar.com to access GetJar's world of applications. This link is currently available on Virgin Mobile India's WAP portal (Vbytes) on GSM platform across 16 circles – Karnataka, Andhra Pradesh, Tamil Nadu & Chennai, Kerala, Orissa, Mumbai & Maharashtra, Kolkata & West Bengal, Haryana, Bihar, MP&CG, Punjab, UP (E) and UP (W).
This alliance between Virgin Mobile India and Get Jar will allow Virgin Mobile users in India to all applications free of cost. Only the data browsing charges of 1p/kb will be charged on access.