Wynn Telecom Signs exclusive agreement with 160by2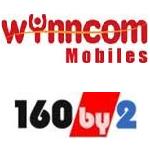 Wynncom mobiles entered into an exclusive agreement with 160by2.com. Under this agreement Wynncom mobile phones will have preinstalled mobile application developed by 160by2.com. This application enables mobile phone users to send free SMS to any mobile not only in India but also in Singapore and Malaysia.
Another feature provided by this application is that the user can access the phone book on the mobile to send messages. One can also save mobile phone contacts on 160by2.com as a memory back-up.
Commenting on this offering Mr. Vivek Sachdev, General Manager Product Division, Wynn Telecom Ltd, said, "Wynncom makes life simpler by cutting down the requirement to browse the internet from your phone by introducing this unique feature of having a direct access to 160by2.com in just one click. This application in Wynncom mobiles bridges distances and helps stay connected and affordable. Today SMS consumes a major portion of mobile bills and this facility will certainly help Wynncom mobile users to save a reasonable portion of their mobile bill"
Commenting on the tie-up with Wynncom Mobiles, Mr. Satyakalyan Yerramsetti, CEO -160by2.com said, "We are extremely happy with this tie-up Wynncom mobiles and hope this partnership will take mobile messaging to the next level. 160by2.com will upgrade this application from time to time in order to serve all Wynncom mobile users better.''
We find nothing great in this agreement. Anybody can download 160by2.com app and use it in his/her mobile if the app is compatible with the mobile.