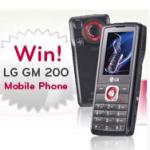 Do you have the best of idea? If yes, then you can win a LG GM200 mobile phone.

Submit your ideas that could help LG in improving its products. LG can make your ideas a reality while you take home a LG GM200 mobile phone!

To submit your Idea click here. The contest will end on 24th December, 2009.

Twenty Winners will be selected on the basis of the entry selected and adopted by LG Electronics India Ltd from all the eligible entries received. The winners shall be announced within 2 months of the contest closure. Winners' name and city may also be posted on Web site.

To read LG Contest Terms and Conditions in detail click here.