While SwiftKey is one of the popular third party keyboards for Android, the company is ready with the next big update which adds many new features.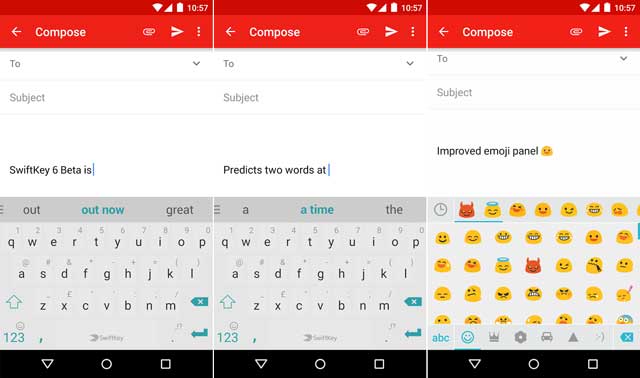 SwiftKey has announced the release of the SwiftKey 6.0 in the beta form with many new features and improvements ever since the company made the app free last year. The major feature that app boasts of is the Double-Word Prediction, which would attempt to predict the next two words you want to type instead of just one word.
While the focus of the app is speed up your typing, it would predict two words only when it makes sense otherwise it will continue with the single word predictions. Also the Double-Word Prediction feature would be available across all the 100+ languages that are supported by SwiftKey.
Another major improvement in SwiftKey 6.0 is the easy access to the emoji keyboard. You can now access the emoji keyboard by long pressing the Numbers (123) key. Also you can get your recently used emoji from the ribbon at the top. Other than that, the Settings menu has received a major facelift. We can expect the app to move out of beta soon.
Download SwiftKey 6.0 (Beta) from the Google Play store