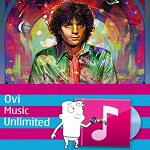 Ovi Music Store is giving its consumers and Indian rock lovers an opportunity to download legal, good quality digital sound tracks from the recently launched album of Syd Barrett, founder member and former vocalist of the iconic rock band Pink Floyd. As a perfect reprise to this legend of rock music, Nokia will give out exclusive Syd Barrett posters to the first 200 users who download the album, "An Introduction To Syd Barrett" from Ovi Music Store.
The album released by EMI Music earlier this month, features Syd Barrett's greatest songs from his days as the Pink Floyd vocalist as well his solo tracks including anthems like Arnold Layne, See Emily Play, Bike & Bob Dylan Blues.
The digital edition of the album "An Introduction To Syd Barrett" is exclusively available on the Ovi Music Store. The offer to win Syd Barrett posters is an exclusively available only to the Ovi Music users in India.