To everyone who thought that Symbian is already dead, the stats of 2011 mobile OS usage from StatCounter will come as a surprise. According to the StatCounter Symbian still rules the mobile OS market with 33.63% of total market share. This is an increase from the last year's 30% share which was a plus then a 5% more to that of iOS.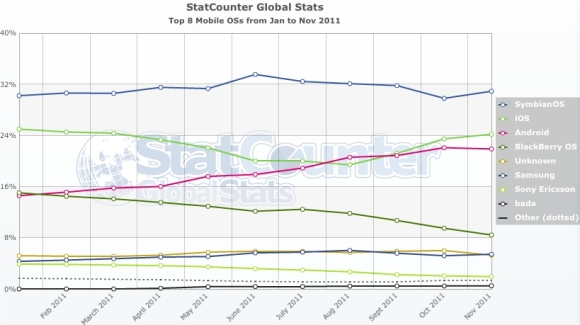 At the second place, we have iOS battling the spot with Android who is at the third place with a meagre difference between the two OS. But it'll still take time for both the OSs to snatch the first place from Symbian.

On the other hand, BlackBerry's market share has declined drastically from about 15% share at the beginning of the year and falling down to just 8% by the end of the year. RIM should surely be worried about the huge decline and bring out the next-gen BlackBerry 10 OS to stay alive.
I am a Symbian fan-boy and I think it's great to see that users are still having faith in the not-dying-too-soon Symbian OS and also going in to buy new devices. Symbian^3 and Symbian Anna upgrades changed everything for the OS. I wish Nokia had worked up on it a bit earlier, but now that Nokia has decided to move on with Windows Phone OS for the future, we could soon see the WP OS to jump and compete with Android and iOS. But with the Symbian Belle release due in Q1 2012 and also works on Symbian Carla and Donna for the future, it can take another year for Symbian to come down to the second or at least third spot.

Via