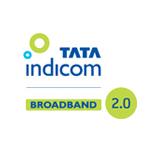 Tata Communications has launched a  new product –Tata Indicom Extra-which allows all broadband/internet users  in India to access Tata Communications' portfolio of value added services like Global Internet Roaming, Net Telephony, Wi-Fi, movies, music and over 150 business and home applications. This is the first time in India that VAS offerings of one ISP is being made available to all internet users even though they may be subscribers of other ISPs.
With TATA Indicom Extra its users can purchase offline or online, register, and start using.The prepaid cards can be bought in convenient denominations ranging from Rs 200 to Rs 6,500, giving complete freedom and ease to customers in selecting a service they wish to enjoy. These include access to over 500 Tata Indicom Wi-Fi hotspots in India and over 100,000 globally, global internet roaming at over 160 countries, and a wide array of content services specially collated for home and business users like PC security, domain registration, music download, etc.
"Tata Indicom Extra is indeed a unique first of its kind prepaid offering, which allows internet customers access to our entire bouquet of value added services like Global Internet Roaming, Net Telephony and content services. It is truly the breaking of barriers and offering ease and convenience of usage to service through a system which is ISP agnostic. This is yet another innovation in customer delight from Tata Communications which has pioneered India's Internet services," said Mehul Kapadia, Head- Sales and Marketing for the Tata Communications Retail Business Unit.
"We have build upon a rich, unmatched portfolio of value added services through partnerships with other content providers and are happy to offer it to all Internet users," added Mr  Kapadia.