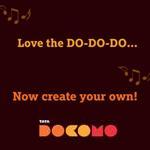 TATA DOCOMO has launched yet another contest and this time you have to create music. To participate in TATA DOCOMO CREATE MUSIC contest all you need to do is is create music of duration between 30 seconds to 60 seconds. You must have listen TATA DOCOMO's signature tune, it opens with DO, DO, DO…and ends with DOCOMO. You need to keep the opening and the ending same and can play in between whatever you want. The contest is open till 31st January 2010.

To download DO INPUTS click here

Once you create your own tune submit it here. But do remember to upload your creation in MP3 format.

Did I miss anything above???? OHH Ya, Prizes – There are no first, second or third Prizes, all the entries that TATA DOCOMO's jury will shortlist will get a cash award.

To read Terms and Condition visit this page.