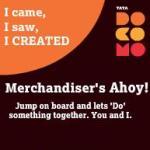 TATA DOCOMO has come up with CREATE Merchandise Contest. Before I reveal the details regarding how to participate, what are the rules etc. lemme tell you the prize money of the contest as thats are main aim :). There are four categories in this contest and the winner of each category will win a prize of Rs.25,000. The runners-up in each category will get a merchandise item of their choice with their design on it absolutely free. This CREATE Merchandise Contest will run from 18th December till 25th December 2009.

You can participate in CREATE Merchandise Contest in following steps.

Step 1 : Choose the DO
The CREATE Merchandise Contest is divided into 4 categories. Choose the category for which you would like to DO Merchandise:

T-Shirts

Key-chains

Mouse Pads

Mugs
Step 2 : What to DO
The designs should celebrate the New Year resolutions we make and the spirit of sticking by them! The resolution could be as simple as – 'waking up early in the morning to jog' to as difficult as 'giving up on chocolates'!
Step 3 : How to DO
If you wish to create a DO Year Design, then DO whatever with our characters – D and O or D,O,C,O,M,O in a JPEG image.Use the Programs you are most comfortable with (be it Adobe Photoshop, Adobe Illustrator, CorelDRAW, or any other program) when you are creating the design for the merchandise. Tata DOCOMO brand logos and music has been uploaded on http://create.tatadocomo.com/merchandise.aspx . Participants can download the Tata DOCOMO brand logos and music from this link to take part in this Contest.
Once you are finished with above work you may click here to submit your entry.
To Read Rules and Terms & Conditions in details click here.