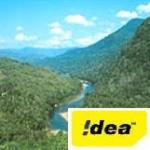 IDEA Cellular has expanded its presence in the North East by launching its 2.75G EDGE enabled GSM network in Meghalaya. The launch in Meghalaya comes close on the heels of IDEA's recent launch in Assam.

IDEA has already set up a network of 69 cell sites in the north eastern states, which will be expanded to 428 cell sites by March 2010, to offer mobile services to over 25 lakh people in the six states of North East.

IDEA has launched two tariff plans for mobile users in Meghalaya. IDEA's 'Ek Se Badhkar Ek' tariff plans offer a choice to mobile users, between per second and per minute tariff plans, depending on their consumption patterns and affordability. Mobile users in Meghalaya can now avail IDEA's per second tariff plan offering all Local and STD calls at just 1 paisa per second or the per minute tariff plan offering Local calls at 40 paisa per minute and STD at 60 paisa per minute.