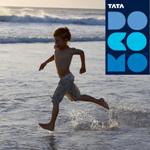 TATA DOCOMO, the GSM brand of Tata Teleservices Limited, today announced the inauguration of its second 'Dive In' Store in Hyderabad. The TATA DOCOMO 'Dive In' Store is an autonomous exploration zone designed to enable an independent and singular user experience.
TATA DOCOMO will be showcasing the rich world of Value Added Services at its 'Dive In' Stores, allowing visitors to explore the latest in telecom technology and gadgets. "We are very pleased to launch our second high-end 'Dive In' center in Hyderabad and fulfill the promise we made at the time of the launch, of bringing about never-before user experience and showcase the mobility of the future.
The 'Dive In' store is a unique and revolutionary concept which offers a relaxing and interactive environment for consumers, aimed at inspiring and educating them on the benefits of mobility. Customers who visit these 'lounge' centers will be able to experience new user interfaces, richer browsing and cutting-edge devices, as also customized TATA DOCOMO applications and services.
Mr. NV Subbarao, TATA DOCOMO's Regional Head – South East, said  after inaugurating the store in Hyderabad's Madhapur area. "We plan to add more such outlets soon, taking the total number of 'Dive In' Store countrywide to more than 200 by the end of the year—clearly cementing TATA DOCOMO's positioning as the country's newest and most-exciting GSM telecom services company," Mr. Subbarao added.
TATA DOCOMO's objective behind setting up these 'Dive In' Stores is to enable consumers to have a complete mobile 'experience' in a plush and leisurely setting. The stores are designed to provide a complete mobility experience through innovative showcasing of today's and Next-Gen mobile services, applications and devices.
The 'Dive In' Stores are not just retail outlets, but high-end destinations where a consumer can come, sit alone in the lounge, and wade through a services and product experience of the future. Store in Hyderabad