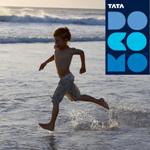 Tata Docomo,after the successful launch of Per second roaming tariff has come up with a new voucher which offers free Tata Docomo to Tata Docomo calling for a year.This tariff can be clubbed with your existing connection.This offer has come at a time when MTS,a CDMA player who has been aggressive enough to offer schemes like MTS-MTS unlimited for as low as Rs.99 for a month is planning to launch its services in Mumbai and Maharashtra.This scheme of Tata Docomo may not be welcomed by all types of subcribers as there are many odds.

Following are the tariff details:-

Amount- 99/– electronic special recharge
Validity- 1 year
Rates- 5,00,000 seconds Tata Docomo to Tata Docomo calling free.

Every month 695 minutes will be added to customer's promotional balance for a year.Deduction will be as per per second tariff.Customer has to use the allotted 695 minutes in a month else they will be lapsed.

We say:- 695 minutes per month is not useful for those who prefer long duration calls.On an average a customer gets 23 minutes/day which is way lower than expected but the pricing at which it comes for and the validity of 1 year is something which short call duration lovers would be interested in.All in all a good offer but would have been great had the free minutes been more.