TATA DOCOMO launches DOCOMICS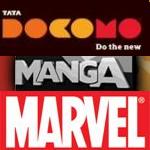 Tata DOCOMO has partnered with NTT DOCOMO to offer world renowned Manga and Marvel comics to Tata DOCOMO customers in India.  

DOCOMICS is a continuation to Tata DOCOMO's recently announced unique industry first m-Comics  service ,wherein customers could read Full Comics Books, along with special effects like character vibration, sounds, zooming text bubbles, and above all downloads smoothly on a 2.5 Edge Network.   

Docomics will provide readers with various Marvel titles like Spider-Man, X-Men, Civil War and Japanese Manga titles like GEOBREEDERS, TAMAHAGANE, AQUA PLANET CHRONICLE, Silent Mobius Complete Edition, SHINESMAN, Old Friend.

As an introductory offer Tata DOCOMO customers will be charged only Rs 15 per comic chapter and there will be no data charges in home network.  

DOCOMICS is the service brand for reading mobile comics through a viewer application. You can view the content frame by frame and can also download the same from WAP site or through the application.