Dress Up your Mobile with vArtitude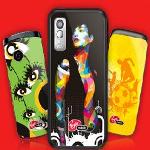 Now Dress up your mobile with Virgin Mobile's vArtitude. vArtitude lets you create a skin for your mobile. As of now this is availabe for limited number of mobiles only and we predict in future Virgin Mobile will provide vArtidude for more handsets.

How to Dress Up your Mobile?
1.Visit vArtidude website
2.Choose your Device
3.Explore designs already available or create your own
4.Proceed to Shopping Cart
5.Make Payment and Receive the skin.

Each skin will cost your Rs. 75 + Rs.3 VAT
Customised Skin will cost you Rs. 119 + Rs. 4.76 VAT
Shipping Charges of Rs. 25 will apply on your entire order.