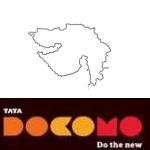 TATA DOCOMO, the GSM brand of Tata Teleservices Limited, has launched its operations in Gujarat telecom circle, as we claimed in our earlier article. TATA DOCOMO is already present in Tamil Nadu, Kerala, Orissa, Karnataka, Andhra Pradesh, Mumbai, Rest of Maharashtra, Madhya Pradesh-Chhattisgarh, Haryana, Kolkata, Rest of West Bengal, Jharkhand-Bihar, Punjab, UP (East) and UP (West) telecom Circles.

The company's Next-Gen GSM service started on a heady note in Gandhinagar, capital of Gujarat, with Tata Teleservices Limited Managing Director Anil Sardana lighting the ceremonial lamp in the presence of TATA DOCOMO President Deepak Gulati.

TATA DOCOMO announced its "Pay-for-what-you-use" model in Gujarat.  TATA DOCOMO is also launching India's first mobile community in Gujarat—Buddynet—wherein members will enjoy never-before calling rates within the community—1 paisa for 6 seconds for local calls, and 1 paisa for 2 seconds for STD calls. Buddynet members will also get free access to social networking sites like Facebook, Twitter, Orkut, Linked-In and Nimbuzz. Furthermore, TATA DOCOMO subscribers in Gujarat will also benefit from special SMS tariffs, wherein the first SMS of the day will be charged at 60 paisa—the next 200 SMS in that day, local or national, will be free.

From the day of the launch, TATA DOCOMO will cover 487 towns and cities and 770 villages in Gujarat, along 1,969 km of the state's highways, at airports, along 1,700 km of rail routes and at places of tourist interest. Coverage in the districts of Ahmedabad, Vadodara and Jamnagar will be provided soon after the receipt of spectrum from the Government of India.