Nazara brings Archie Comic Strips in Indian languages on mobiles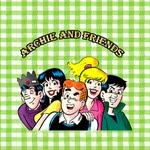 Millions of Archie comics fans have a reason to smile extra as Nazara Technologies is introducing the all time favorite Archie comic strips in vernacular languages, for mobile users in India.

You can download Archie comic strips in their choice of language by using your GPRS connection at varied price points from Re.1 per day, Rs.10 per week and Rs.30 per month depending on your operator.
Commenting on the release of Archie's Comic games, Mr. Nitish Mittersain, CEO, Nazara Technologies said, "Archie comics has not lost its popularity in the last sixty years.Even today there are about a million copies of the Archie comic sold every month. With Archie comic strips being made available on mobile the reader will not have to wait for months to see what happens next. We are adding value to the comic's portfolio by bringing their much-loved Archie comics out in regional Indian languages".