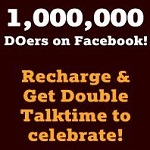 Tata Docomo is known for its aggressive marketing techniques and for delivering something new to the subscribers. This time Tata Docomo has reason to celebrate as they have crossed the 1 Million fans mark on Facebook in a short span of 18 months, thus being the first telecom brand in India to achieve this milestone. Tata DOCOMO is one of the first Indian brands to take the Social Media Marketing route and successfully made an impact on popular social networks such as Facebook, Twitter, Orkut and YouTube. To celebrate this achievement, Tata Docomo has brought a new offer valid from 11th January 2011 at 00.00 hrs to 13th January 2011 at 23.59 hrs wherein subcribers will get Double Talktime on every topup recharge starting from Rs. 10 to Rs. 1000.
This offer is not applicable on any special tariff recharge vouchers or special recharges made by the participants and cannot be combined with any other promotional scheme in operation during the Offer Period. Talktime will be doubled 7 days after the promotional period ends.
Tata Docomo prepay users must keep in mind that only the highest of their recharge values during the promotional period will get doubled. Thus if a user does 3 recharges of Rs. 50, Rs. 100 and Rs. 200, he will get double talktime only for the Rs.200 recharge as it is the highest value amongst the three recharges done.
Tata DOCOMO users can register for this offer directly from its Facebook Page (www.facebook.com/tatadocomo) and can make the recharges through its website or through any valid Tata Docomo channels.
Past one or two months have been really dry as far as new offers are concerned. Just when we thought that the telecom war is going downhill where we saw 3G operators launching non competitive schemes, Tata Docomo has created a slight stir by launching this offer for 3 days.
Will this offer help Tata Docomo keep their subscribers happy with the highly awaited MNP round the corner??