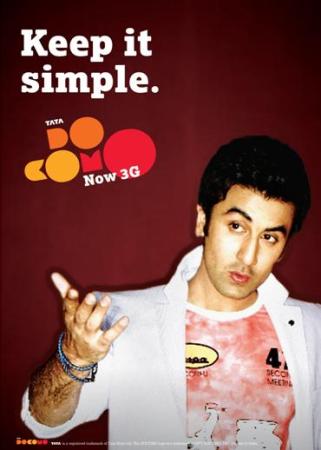 A new brand ambassador and a new ad campaign, Tata Docomo surely has new tricks up its sleeve and has come up with a new ad campaign. The "Keep It Simple" ad will feature their new brand ambassador and bollywood star Ranbir Kapoor. The new ad campaign is claimed to be exciting and innovative and will be featured during the IPL 4 Season and will include the 15 Indian Cricket Team Heroes of the World Cup.
Mr Gurinder Singh Sandhu, Head Corporate Marketing, Tata Teleservices, said: "Tata DOCOMO is an inspirational brand and so is the charm and personality of Ranbir Kapoor, India's young and fastest-rising Bollywood icon. He is youthful, dedicated, Refreshingly Different and a standout in a crowd—all of which qualities mesh so well with Tata DOCOMO's own brand persona. As a youth icon, Ranbir is a trend-setter and appeals to young audience—he is professional, dynamic and youthful. This is a perfect match with Tata DOCOMO, and we welcome him to the family and look forward to a long and meaningful association."
The new brand ambassador, Ranbir Kapoor had this to say "I have always believed in being different and doing things in a unique and new way—which is what made me jump at the chance to associate with Tata DOCOMO, which is such a close replica of my own persona. What really connects me to Tata DOCOMO is the youth appeal that they have. They keep it really simple, and that's what the whole format of this campaign is all about—Keep It Simple, Silly. We have too many things in our lives to worry about. Telecom is not something that we should have to worry about—all those bills, smart bills, products, services, tariff options… I love the simplicity of Tata DOCOMO and this new campaign—it will start with making people laugh, and make their lives oh so simple… We had a blast making this campaign and I hope people have a blast watching it too."
The ad will have various episodes and is expected to hit television screens from the 8th of April. So do catch the fresh new avatar of Tata Docomo.