Tata Docomo upgrades network to offer 9.8 Mbps speed on Photon Max Wi-Fi
With the increasing demand for high speed internet, Tata Docomo has announced that it has upgraded its networks to offer faster speeds.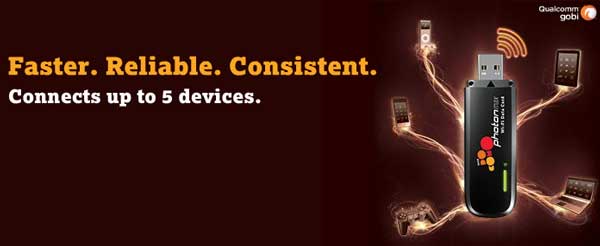 Tata Docomo has announced that it has upgraded the data speed of the Photon Max Wi-Fi dongle to up to 9.8 Mbps, which was possible due to the recently upgraded network. The dongle that was launched last year currently offered speeds of up to 6.2 Mbps. Existing customers will automatically be able to access the higher speeds on their network without requiring to change their dongles.
The upgraded speeds of 9.8 Mbps are currently available for users in Mumbai, Delhi, and Kolkata. It is expected to be further extended to users in 8 other metro cities. The new upgraded network supports Rev. B Phase II CDMA technology and is powered by Qualcomm Gobi with dual-core processor technology.
Speaking about the upgrading, Gurinder Singh Sandhu, Head Marketing – Mobility Tata Teleservices, said, "Tata Docomo continues to lead its efforts to offer better and faster data connectivity for its customers. With the demand for high-speed data connectivity rapidly rising, this network augmentation will further enable our customers to enjoy high speed data connectivity and enjoy seamless rich multimedia. With this development, Tata Docomo will become one of the leading players to offer Rev. B Phase II network in India. Photon Max Wi-Fi is already redefining the way customers access Internet data across multiple devices at home and offices and this will further enhance their data experience."