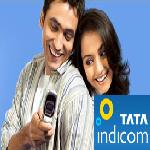 Tata Indicom today announced the launch of a revolutionary Pay Per Call product. The Pay Per Call plan breaks completely free from the usual pulse of one minute, charging subscribers a fixed charge on a per-call basis—at Re. 1 for all local calls and Rs 3 for STD calls for 10 minutes (600 seconds). SMS would be offered at a special price of 50 paise for both National and local messages. What's more, the Pay Per Call offer is valid on all calls made by Tata Indicom subscribers to any mobile phone or land line connection, on any network.

The Pay Per Call product is initially being introduced on the pre-paid platform, and all subscribers who opt for it will be charged a daily fee of Re. 1 to avail this tariff option.The service is available on all new Tata Indicom connections, and existing subscribers can adopt the offer with a one-time recharge of Rs 96 (In some circles it is Rs. 99).
According to this plan the pulse which is usually of 60 seconds (Exception : TATA DoCoMo) will be of 600 seconds that is 10 minutes. Note that as a special promotion , customers will enjoy an extended pulse of 24 hours for all local calls for first 15 days from date of activation
Note for Pay per call Plan :
Each local call to be charged at Rs 1 for 10 minutes & each STD call to be charged at Rs 3 for 10 Minutes

Pulse for Local & STD call will be 600 secs

Pulse for Roaming & STD calls will be 60 secs

This new starter kit allows keep talking benefit only with the purchase of a new handset on the tata indicom network , if sim is used with old & used handsets , the default tariffs of Rs 1/min for Local calls & 1.5/min for STD Calls . Local SMS @ Rs1 & National SMS @ Rs 1.5

As a special promotion , customers will enjoy an extended pulse of 24 hours for all local calls for first 15 days from date of activation

Daily rental to be charged at Rs 1 per day

Keep talking plan is a stand alone plan & can not be coupled with any other special offers which has free talk time or free minutes built in.
"We at Tata Teleservices Limited are proud to introduce this path-breaking value proposition for Indian telecom users. Pay Per Call is another extension of the promise made by Tata Indicom to all subscribers—that of providing a superior service experience, at the same time providing transparent and flexible payment options," Mr Anil Sardana, Managing Director of Tata Teleservices Limited, said. "Pay Per Call will not just change the pricing paradigm in the telecom space—it also marks a giant step in TTSL's evolution as a telecom operator with its primary focus on creating consumer delight," he added.
"The pay per call concept is unique and is being launched for the first time across India. It significantly reduces customer confusion arising out of complex rate plans, day/night charges, on-net/off-net charges and other fine print. It gives telecom consumers freedom to talk to their heart's content without any of the hassles they face on the charging front," Mr. Vineet Bhatia, COO Delhi & NCR, Head North Region, Tata Teleservices said, "The product is the result of research and studies to understand consumer trends and usage patterns—customers who opt for this plan will no longer have to worry about the cost every minute of a call. Also, the fact that this offer is for both local and STD calls makes it unique, something that holds the potential to completely redefine the Indian telecom pricing paradigm," he added.
"With the Pay Per Call offer, Tata Indicom has changed the very currency of pre-paid mobile tariffs. While a customer typically pays Re. 01, or Re. 0.30, or Re. 0.50, or Re. 1 as call rates per second or per minute, depending on the tariff plan they have chosen with various telecom service providers, they will now be charged a flat rate of Re. 1 for any local call, and Rs. 3 for any STD call, regardless of the call duration! This will change the very perception of charging, as seen by telecom subscribers today," Mr. Bhatia said.