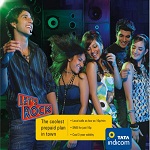 Tata Indicom has launched an updated version of their much famous Lets Rock plan in Mumbai, Maharashtra and Goa.This plan is a combo of "Pay Per Second" and "Pay Per Call Flexi" with the per second tariff applicable in morning and Pay Per Call tariff applicable at night.In previous Let's Rock plan all local calls were charged at 50 paise/min during day and 25 paise/min during night and according to new tariff the day calling tariff is 1 paise/sec (60 paise/min) and night tariff is 1 Rs/5 mins (20 paise/min).
Following are the tariff details:-
First Local or STD minute of the day will be charged at Rs.1 and thereafter the following tariff will be applicable.
From 9 am to 9 pm
All Local & STD calls are charged at 1 paise/sec
Calls to US & Canada at Rs.1/min
From 9 pm to 9 am
All Local calls are charged at 1 Rs./5 mins
All STD calls are charged at 2 Rs./5 mins
Calls to US & Canada at Rs.1/min
SMS Tariff:-
All local and National SMS at 1 paise/sms subject to a maximum of 100 sms/day after which the subscriber will be charged 50 paise for the same.
No daily rental applicable on this scheme.
This is an average scheme when compared with the previous tariff of Lets Rock.There was still a room for improvement in this scheme. It would have been better had the night tariff been 1 paise/3 seconds instead of the pay per call flexi scheme.