BSNL (Karnataka) ties up with Fifth C BlacMail to offer push email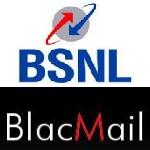 Bharat Sanchar Nigam Ltd. (BSNL) ties up with Fifth C, a Bangalore based mobile applications and technology firm to offer its subscribers – Push email service – BlacMail. BlacMail enables users having accounts with most public email systems to instantly receive email notifications on a wide variety of phone models.
BlacMail is being launched in the BSNL Karnataka circle with plans to rollout the service to all BSNL circles nationwide soon. BSNL customers can download BlacMail onto a compatible phone by sending the following SMS ("BM ACTIVATE") to 50046 (toll-free) and following the instructions for activating the service instantly.
On the occasion of the launch, Mr. K. Krishnamohan, Founder and CEO of Fifth C, spoke about how BlacMail is fast emerging as the platform for true push mail: "We developed BlacMail with the objective of crashing the cost and performance barriers to enable true push mail experience for all mobile users in India from its current standing as an elitist service reserved only for a privileged few. Fifth C is happy to partner with BSNL in enabling this key capability for its customer base thus leveraging the breadth of its network coverage in 2G and 3G and geographic reach across India."
Following the launch, a spokesperson from BSNL said: "BlacMail pushmail platform is unique in spanning the requirements of the broad customer segments that comprise the BSNL base- from owners of inexpensive phones such as students in metros and small businesses in Tier 2/3, to consumers on our 3G network. Our customers can enjoy the benefits of this service that thus far was only affordable for a niche high-end segment like the Blackberry".
Mr. Krishnamohan further added: "BlacMail is fast emerging as the dominant push messaging platform for the mass-market in India. This is validated by the strong partnerships we have forged with the leading telecom operators and global mobile phone manufacturers who are In the process of rolling out innovative BlacMail derivative services to their customer base soon."