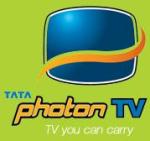 Tata Teleservices Limited announced the launch of a new feature on its premium offering, Tata Photon TV using Photon Plus. Now, users can subscribe to the ongoing and latest movies from the library of movies available on Tata Photon TV application. The feature is being offered for the first time in India to all Tata Photon+ existing and new subscribers. The subscription validity for each movie will be for 30 days.
Tata Photon TV application is available as a part of the dialer of Tata Photon+ device. To subscribe the feature of 'Movies on Photon TV', subscribers have to select a channel 'Movies' from the category displayed on the Photon TV page. Post selecting the channel, subscribers have to click on a particular movie to subscribe the same. Each movie mentioned in the list will be rated at three levels: Low, Medium and High, as per the popularity and acceptability. Accordingly, the subscription is available in 3 different denominations; Rs 25 per month Rs 50 per month and Rs 75 per month depending on popularity of the movies. With an aim to target the masses, both Hindi and regional movies are hosted.
Please note: Data Charges will be applicable as per the customer's data plan while viewing on Tata Photon TV.