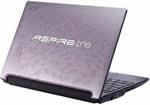 TATA Teleservices limited and Acer India announced the launch of their Next-Generation Netbook-the Aspire One AOD 260 which will be embedded with Tata photon+, this Netbook will give users high-speed Internet access for connectivity on the go, at broadband speeds. This product is launched to boost productivity and enhance the mobile computing experience.
Tata Teleservices Limited announced a strategic alliance with Acer India, due to which the Aspire One will be made available at all the TTSL retail outlets in Mumbai and Delhi during the first phase of the launch. This Netbook will be giving up to 3.1 Mbps access speed.
Acer-Aspire One AOD260 Specs :
Processor : Intel Atom processor N450 (512 KB L2 cache,1.66 GHz,DDR2 667 MHz)

Chipset : Mobile Intel NM10 Express Chipset

Operating System : Windows 7

Memory : 1 GB Ram

Display Size : 10.1" WSVGA

Optical Disk Drive : No

Hard Disk Drive : 160 GB

Multicard Reader : Yes

Bluetooth : Yes

USB : 3 ports

WebCam : Yes

LAN : 10-100 LAN

Stereo speaker : Yes

Battery Type : 6 Cell
The Aspire One is designed for Mobility and connectivity for an entire day, this netbook has the capabilities to cater the HSIA technology on TTSL's CDMA network and provide users with broadband connectivity. The 10.1" screen is LED back-lit and 16:9 aspect ratio,1.3 megapixel camera, it has almost 8 hours of life.
This Netbook is priced at 17,999 (+taxes and other applicable levies) and it will be available only in Delhi and Mumbai during the initial phase.