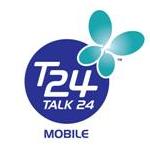 Tata Teleservices Limited and Indian retail giant Future Group today announced the launch of mobile telephony services under the brand name T24 on the GSM platform. The companies had unveiled Brand T24 after signing a strategic alliance in February this year.
The T24 mobile telephony service will be sold through Future Group's extensive retail footprint across the country, beginning with Andhra Pradesh. It will be progressively rolled out across the country in the next couple of months, through Future Group's retail networks in over 75 cities and 65 rural destinations. Customers visiting Future Group retail chains like Pantaloons, Big Bazaar, Central, Brand Factory, EZone, Home Town and Aadhar, among others, will be offered this exclusive mobile connection and tariff plan, wherein they can win free talk-time based on their purchase of at these stores. Every time they spend on buying talk-time, customers will be rewarded with special deals and promotions at the retail outlets.
"Shopping and talking on our mobile phones are among the two favorite activities for all of us in India. With T24, we have been able to develop a unique customer value proposition that combines these interests of the aspirational Indian. Customers will get shopping benefits for talking, and talk-time benefits each time they shop," Mr Kishore Biyani, Group Chief Executive Officer of Future Group, said. "We believe that with our partners, Tata Teleservices Limited, we have been able to develop a differentiated offering in the crowded telecom space and also increase the loyalty we enjoy among the millions of customers who patronize our stores," he added.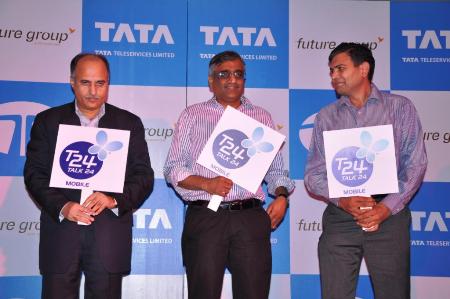 Anil Sardana, MD – TTSL, Kishore Biyani, CEO – Future Group & Mayur Toshniwal, CEO – T24 unveiling mobile telephony services under the brand name T24 on the GSM platform in Hyderabad