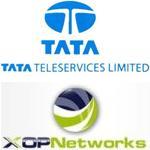 Tata Teleservices Limited (TTSL) has launched 'Insta Conference' – an audio conferencing  service using XOP Network's Universal Service Node (USN) platform. Insta Conference service allows a customer to instantly convene a voice conference with a pre-selected group of individuals at the press of a key. The service is available to all customers of Tata Walky, Tata Indicom and Tata DOCOMO.
This Conferencing service is a cost-effective, efficient and convenient. A customer can simply dial in to the bridge to automatically start a conference. The application dials out to one or more numbers belonging to each individual and as people pick up their calls; they are automatically placed into an audio conference. The service also allows them the flexibility to dial in and join/re-join as necessary.
The charges for calls using Insta conferencing are based on flat billing and will be independent of the voice plan / add-on packs, which the customer has subscribed. Charges will be levied based on the actual number of participants in the conference and the respective duration for which each of them participated.
Speaking at the launch, Mr. Sukanto Aich, President Enterprise Business, Tata Teleservices Limited said, "We are delighted to introduce another revolutionary value added service for our customers across the Tata World. Our collaboration with XOP Networks has enabled us to offer Insta conferencing service based on XOP's Firebar application. It is aimed at large, small and medium enterprises, wherever there is a need for instant, voice-based group communication. The service is hassle-free, easy to connect anytime, from anywhere, can connect any number of people at one point in time, and above all is cost-effective with no additional rentals."
Mr. Sudhir Gupta, CEO of XOP Networks said, "We are very pleased that Tata Teleservices has selected XOP Networks platform to power its Insta Conference service. It is a great honor to be included in Tata Teleservices Limited's network and to be able to assist in bringing this unique audio conferencing service to Tata Teleservices Limited customers across the country." Insta-conference significantly reduces the effort required to set up an audio conference call.