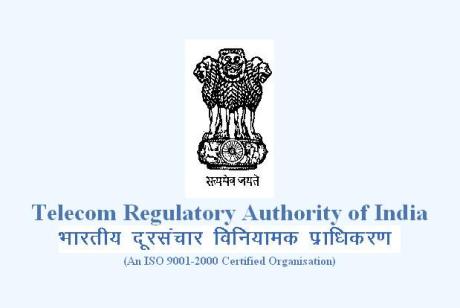 According to a recent report released by Telecom Regulatory Authority of India (TRAI), the total number of telephone subscribers in India crossed 800 million mark. A growth of 2.39% resulted in increase in number of subscribers to 806.13 million in January 2011 from 787.28 million in December 2010. Overall Tele-density in India is now 67.67%, however there is a decrease in share of Urban subscribers from 67% to 66.79%, but there is and increase in share of rural subscribers from 33% to 33.21%
.
Subscription in Urban Areas grew from 527.50 million in December 2010 to 538.38 million at the end of January 2011. Rural subscription increased from 259.78 million to 267.74. The growth of Rural Subscription (3.07%) is higher than the Urban Subscription (2.06%). The overall Urban teledensity has increased from 147.88 to 150.67 and Rural teledensity increased from 31.18 to 32.11.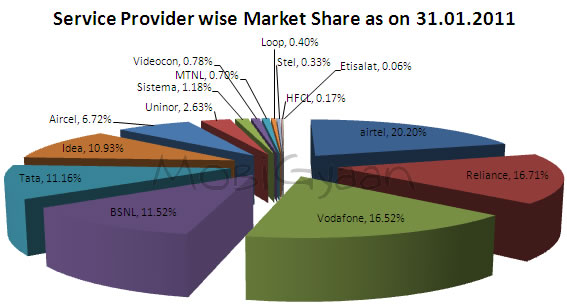 In Wireless (GSM, CDMA & FWP) segment airtel added 3301379 new subscribers, which is the highest in terms of subscriber addtion in January 2011. Check out the chart below to know Service Providers' share in net additions during the month of January 2011.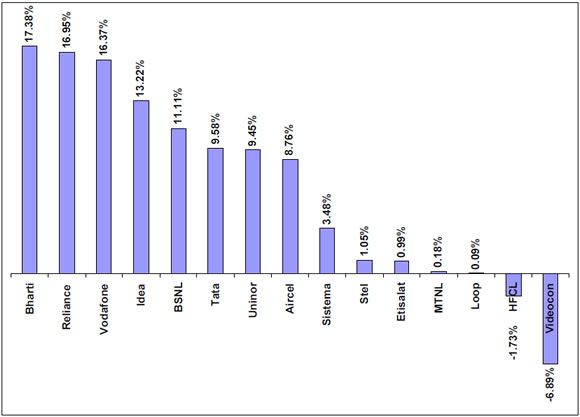 In Wireline Segment BSNL still rules the market with 72.91% share of the total market
Highlights of Telecom Subscription Data as on 31st January 2011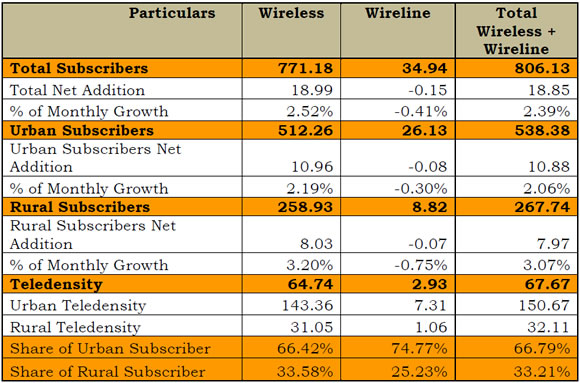 Source