The WhatsApp competitor, Telegram Messenger is finally available on Windows Phone. The irony is that it has become available officially when WhatsApp is not available at the Windows Phone Store.
Telegram Messenger hopped into limelight after the WhatsApp outages and also after the news of its Facebook acquisition broke. Until now, the instant messenger did not have an official Windows Phone app although there were several third party clients.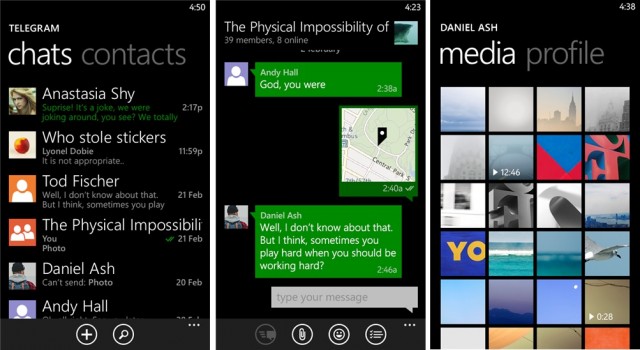 Telegram did a very cool thing, which let them speed up things. They decided to choose the best third party Telegram client and brand them as the official client for Windows Phone. Ngram for Windows Phone was found to be the best available and now, it's available on the Windows Phone Store as the official Telegram Messenger Beta app.
As we put up in a detailed post in the past, Telegram Messenger is better than WhatsApp in certain ways. It's secure, faster and completely free. It works and feels a lot like WhatsApp so you should feel at home. Telegram Messenger Beta on Windows Phone sure lacks some features but it's still a beta, so we should be a little gentle. So, hit the link below and get Telegram Messenger on Windows Phone and do tell us, how you like it?
Telegram Messenger Beta – Windows Phone Store