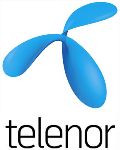 Telenor Group announced that it has successfully achieved 100 million subscribers in Asia. This milestone marks another significant achievement in Telenor Groups successful history in the region. Making this announcement at GSMA World Congress 2011 in Barcelona, Mr. Sigve Brekke, Executive Vice President of Telenor Group, and head of Telenor Group's Asian Operations said, "With more than 100 million subscribers in Asia, Telenor Group continues to develop and reinforce its position as a leading pan-Asian provider of telecommunication services. This position is based on a long term industrial commitment, a strong customer focus and a fundamental belief that the mobile phone would benefit emerging economies as a vital tool in improving quality of life in the region".
The Telenor Group entered the Asian region in 1996 through the successful investment in Grameenphone in Bangladesh. Since then, the Asian markets have been the concentration of the development of the Telenor Group, providing a world of opportunities for growth in the most populated and fastest growing markets in the world.
As of 2010, Telenor has mobile operations in 5 Asian markets with Grameenphone in Bangladesh, Uninor in India, dtac in Thailand, DiGi in Malaysia and Telenor in Pakistan.
At the end of 2010, Telenor Group's five Asian operations generated 39 percent of the group's total revenues and obtained an operating cash flow above NOK 10 billion. In subscriber growth Telenor Group added more than 23 million subscribers in Asia in 2010.

Telenor entered the Indian market under Uninor brand name on 3rd December, 2009. It started with rolling out in 7 telecom circles & now it has presence in 13 circles across India.

Mr. Sigve Brekke further added that, "As a mobile operator with a strong industrial background, Telenor Group has a long term commitment to developing our operations. Since entering into the Asia we have made significant financial investments and deployed management competence and industrial know-how. The demand for basic services will continue to be high, as penetration in some of our markets is still low, but the next big growth area in Asia will be mobile data and access to internet services. To secure a speedy adaptation of internet services it is important that local governments establishes regulatory framework that are investment friendly, secures a level playing field and stimulates continued development".